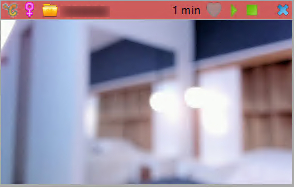 There are 2 ways to record a stream.
If the stream is displayed
Click on the red circle in the stream control. The recording is started. The stream control slides to the top and gets a red background.
The red circle symbol disappears and a green square appears instead. This can be used to stop the exposure. In addition, the current recording time in minutes also appears during the recording.
If you use the automatic recording stop, you have the possibility to switch off the stop for the current recording with the context menu.


With the heart you can add the recording to your favorites.
This is also possible via the context menu. In the context menu all commands are available again.
If the stream is hidden
If the stream is not displayed you can open the context menu in the channel list on the left side with the right mouse button. There you will find the menu item "Start Automatic Recording" or "No recording". With a click on the menu item you switch the recording on or off. The displayed symbols mean
The channel is online but is not displayed or recorded.
The channel is online and is displayed but not recorded.
The channel is offline and will be recorded as soon as it comes online.
The channel is online, recorded and displayed.
The channel is online and is recorded but not displayed.
A few technical info
The program CRStreamRec.exe is used for each recording. With it the stream is recorded and packed as mp4. The process no longer has its own window. It can be terminated via the task manager. There it is either entered as a background process when CamRecorder is minimized in the system tray. If CamRecorder is displayed, the process can be expanded and then there is an entry of CRStreamRec.exe for each running recording.